Home > Checking & Savings > Youth, Young Adult & Seniors > CU Kids Klub
CU Kids Klub
WELCOME TO THE KLUB!
Kids Klub is a special savings program for children ages 5 - 12. Kids Klub benefits include:
A Spring/Summer Newsletter
A Fall/Winter Newsletter and a Trick-or-Treat Bag
A Birthday Greeting and Gift*
Holiday Ornament - Create an ornament, which we will display in our lobby. Each kid that drops off or sends us an ornament will receive a $10 credit to their savings account!
The key to this program's success is SAVING! We'll help to make saving fun and easy.
*Kids Klub activities are for members between the ages of 5 - 12 years old. Birthday card and gift will be mailed at the beginning of the month in which members birthday falls (child must be between the ages of 5 - 12 years old in the month of distribution). No information is collected or retained on this website from children under the age of 13.
More Kids Klub Fun...

Learning is fun when you're in the CU Kids Klub!
Check out these cool links...
What the Words Mean...
Deposit - to put money into an account
Withdrawal - to take money out of an account
Teller - the person at the credit union who takes deposits and withdrawals
Savings Account - an account where money is kept to accumulate interest and grow
Dividends - the money you earn on the money you have in your savings account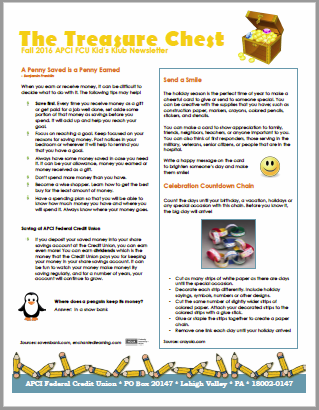 The Treasure Chest -The Newsletter of the APCI FCU Kids Klub